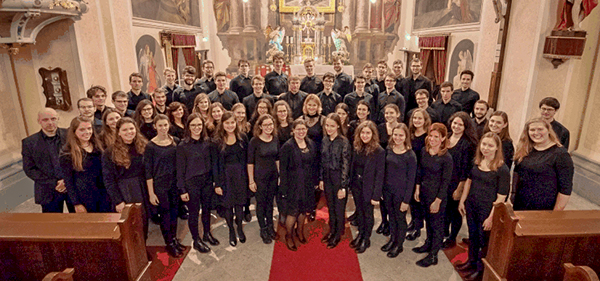 Now world-renowned Chamber Choir Megaron was founded in Slovenia in October 2003 on the initiative of Damijan Močnik, composer and conductor, after several years of its singers already performing together in different groups and predominantly in individual projects. The choir represents the peak of the choir pyramid in St. Stanislav's institution as it mainly unites students who previously received music education in five choirs of The Diocesan Classical Gymnasium.
Chamber Choir Megaron has evolved into an excellent choir performing regularly in Slovenia as well as in Austria, Germany, Belgium, The Netherlands, Slovakia, Poland, Canada, USA and thus earning its good reputation at home as well as abroad.
The choir is characterized by a distinguishing, rich sound and inspiring interpretations of music from different stylistic periods. It has been awarded at numerous prestigious national as well as international choral competitions.
For more info check the website: https://kzmegaron.com
ANNAPOLIS
Tuesday September 24, 2019
Performance at 7:00 PM
Francis Scott Key Auditorium
St. John's College
60 College Avenue
Annapolis, MD 21401
CUMBERLAND
Thursday September 26, 2019
Performance at 7:00 pm
St. Patrick's Catholic Church
201 N. Centre Street
Cumberland, MD
SALISBURY
Friday September 27, 2019
Performance at 7:00 pm
Holloway Hall
Salisbury University
1101 Camden Avenue
Salisbury, MD 21801
PITTSON, PA
Sunday September 29, 2019
Performance at 7:30 pm
St. John the Evangelist Church
35 William Street
Pittson, PA
These performances are free and open to the public on a first come first seated basis; tickets are not required.
As always, donations will be accepted and greatly appreciated.