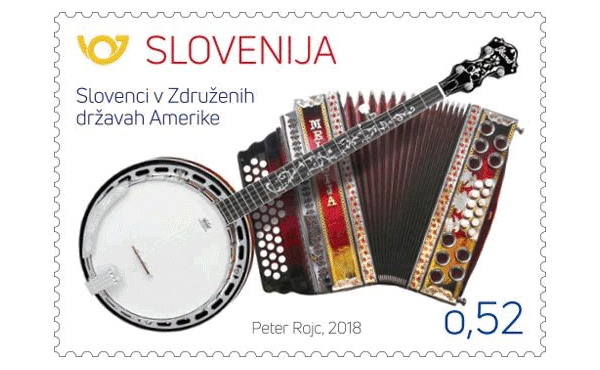 From: sloembassy.washington@gov.si
Date: December 4, 2018 at 4:19:19 PM EST
To: Anita.Stankovic-Pavlic@gov.si
Subject: Official stamp of the Post of Slovenia honoring Slovenes in the USA & QUIZ QUESTION
When you think of Slovenes in the United States of America, you might associate them with symbols ranging from potica nut roll to Carniolian sausage, or even red carnations. But they are probably best known for their unique style of American dance music, based upon old Slovene melodies, which became a national sensation in the 1940s and is still popular in the U.S. today.
In November 2018 the Post of Slovenia (Pošta Slovenije) decided to honor Slovenes in the U.S. with a stamp that depicts the two musical instruments that best characterize their particular music, while symbolizing both nations: the traditional Slovene diatonic accordion (also known as a button box) and the banjo, representing American country music.
In a certain sense, both instruments have been "adopted" by Americans. The accordion originates from the first half of the 19th century in Europe where it soon became an iconic instrument of Slovene traditional music. Slovenes emigrating to the U.S. at the turn of the 20th century brought it with them and soon developed their own version of polka music, known as the Slovenian-style or Cleveland-style polka. But the popularity of this genre of dance music went beyond just Slovene communities. Other Americans took a liking to it, too.
The banjo followed a different route. The instrument originates from Africa, having been brought to the U.S. by slaves, first to southern states. The banjo's popularity later spread across the U.S. and it became the most recognizable and distinctive instrument of country music. Slovene-American bands combined the button box and the banjo in the 1920s to create a new sound that is still enjoyed a century later.
The First Day Cover from the Post of Slovenia includes a postmark featuring the Carniolian sausages (Kranjska klobasa). It was issued on November 9, 2018 also at the Embassy of Slovenia in Washington DC by Ambassador Stanislav Vidovič.
QUIZ QUESTION: Which Grammy-winning Slovene-American entertainer often combined the button box and the banjo in their polka recordings?
A.      Lynn Marie Hrovat 
B.      Micky Dolenz of Monkees  
C.      Frankie Yankovic
D.      All of the above  
Please send your answers to: sloembassy.washington@gov.si by December 15. The winner of the First Day Cover of the above stamp will be drawn from the lot of correct answers.
Please forward this mail to anyone you think might be interested in information or the quiz.