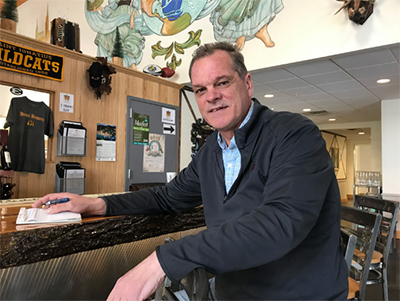 CLEVELAND, Ohio — Boris Music has owned Hansa Import Haus and Hansa Travel Service in Ohio City for about 40 years. In 2016, he added Hansa Brewery in the same complex.
Cleveland creds: Moved here from Slovenia in 1976
Currently lives: Kirtland
Age: 61
Family: Wife, three grown children
Favorite locally owned restaurants besides his own: Astoria
Does Ohio City have too many breweries?
Boris: Microbreweries are growing like mushrooms. You have 40-some breweries in Greater Cleveland now, so the competition is obviously there.
But we are not the typical microbrewery. We follow old-style German purity laws for most of our beers. They have four ingredients only: water, grain, hops and yeast. No spices.
We have some other beers that are not brewed according to that tradition. We might add raspberry or blueberry or plum. Our Christmas beer two years ago had no spices, just a little honey and maple syrup.
We are a toothpick in the forest. Our typical production per batch is about 18 kegs or nine barrels. We probably do 40 batches a year. We don't bottle it. You can drink it here or take home a growler or a few cans. It's available on tap in 18 bars: Forest City Shuffleboard, ABC Tavern… But we are not really looking at putting it on store shelves.
We're doing quite well. We're doing tremendously at competitions. We've won several gold medals. We won double gold in New York.
I'm not spending any money for advertising. I want to build demand rather than chase people. That's how Great Lakes did it. We'll see what the consumer decides.
Your menu?
Boris: We are doing good central European food: Austrian, Hungarian, Slovenian, a little Italian. Americans have really bad geography; they label us Eastern Europe. Come on.
We do paprikash, goulash, stuffed peppers, all three schnitzels… We do authentic food like it's supposed to be. We're not trying to be a modern, highfalutin place. You never serve gravy with wiener schnitzel in Europe. You get a lemon and you soften the crunchiness. Parisian style is egg and flour.
We bring bronzini from Greece and lamb from New Zealand. We do octopus out of Spain. I do nothing from China. My octopus is soft. It's not rubber. If you want rubber, go to Goodyear in Akron.
I got a carpaccio for yuppies, but we use mignon. We've giving you top shelf.
Do young customers like Old World food?
Boris: It's all up to the server to explain t item, and once they try it they love it.
Where are you from?
I was born in Novo Mesto, in the countryside of Slovenia. I later lived in Ljubljana [the capital].
What brought you to Cleveland?
Boris: I came here as a trainee in '76. I was sent by my company, a large tool operator. I fell in love with the place.
I worked here for Europa Travel almost two years. In '78, I went on my own. I took over Hansa Import House. The name comes from medieval times in northern Germany. [It means a merchants' league.]
We were across the street from where we are now. The neighborhood was so bad, we were broken into at least once a week.  Cleveland was so depressed and dirty. There was no life in the evening.
I took what's now the cigar store and Touch Supper Club. Then we got this property. We had to evict a bar. That same day, my building was on fire. Everything went down. I wasn't properly insured.
Most of my customers said, "Why don't you move out? Come to Parma, Brook Park… But all the freeways are nearby. Typically in America, things get destroyed in 20, 25 years, and it takes about 50 years to rebuild. I was only about 20. I figured in 30 years, maybe the area would improve. We tore both buildings down. I started to rebuild.
How was the travel business?
Boris: at that time, it was really exploding. Americans traveled to Europe in masses. There were no computers. We were doing everything on cards.
We were doing corporate accounts primarily. I had an office in Houston and in Asheville, N.C. I was doing charter flights for Cleveland to London, Frankfort, Ljubljana, Zagreb… We moved 10,000, 12,000 people a year across the water. I acquired Europa in '91. I was called king of the charter flights.
Nowadays, can't people book their own trips online?
Boris: Anybody who thinks they can do it themselves is stupid. I just had six people in Toronto whose plane was cancelled. I took care of them. You don't need anybody when there's no problem. You don't need to insure your house until it burns down.
How's the import business?
Boris: It's doing very well. It's been here 65 years. It's primarily Germanic: Germany, Austria, Switzerland. Obviously, we have a little from Slovenia, Croatia, Hungary. We sell candy, canned goods, fish, pickled vegetables, noodles, dumplings, bread from a specialty baker in Canada. We have wines and over 100 imported beers. We have hams, salamis, sausages…
How's the neighborhood coming along?
Boris: We have to give big credit to St. Ignatius. They've done a tremendous job.
Cleveland has improved 1,000 percent in the 42 years I'm here. It's clean, livable, lots of action. It's growing slowly, and that's good.
How do you like living in Kirtland?
Boris: I love it. I've got about three acres. I live in a forest. I have a running creek every day.
I have a house next to my warehouse. I sleep a few times a year here. But it's too noisy for me. My dog doesn't like it: a German shepherd, Socrates.
Are our ethnic communities still strong?
Boris: Yes. Look at the Germans with the farm on York. Look at the Donauschwabens. In Eastlake, you have the Croatian lodge.
You have the Slovenian National Home on St. Clair and 62nd. You have my church, St. Vitus, there. It still plays a big role in the area. They have put in senior living: beautiful apartments. St. Mary in Collinwood is more active with younger Slovenian immigrants.
How's the weather here compare with Slovenia's?
Boris: Fairly similar. There the flowers bloom and the vegetables grow earlier. Here spring comes all of the sudden, and everything's rush rush rush.
Hansa Brewery, Hansa Travel Service and Hansa Import Haus are at 2717 Lorain Ave., Cleveland, 216-631-6585. For more on the brewery, see hansabrewery.com.