Monthly Dinner to benefit
The Bishop Baraga Association
Sunday, January 14, 2018
After 11:00 am Sunday Mass at the Slovenian Catholic Mission church, join us for our fabulous and always home-cooked monthly dinner!  This month's dinner proceeds will go to the Bishop Baraga Association to assist in furthering the cause of the great Bishop's sainthood.
Dinner prices are:
     Adults are $15
     Children 7 and over are $8
     Children 6 and under are free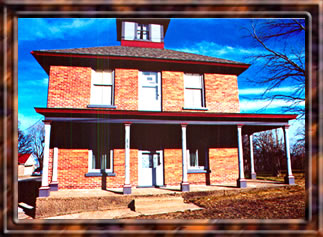 There will be a 50/50 raffle!
All bakery and pastry donations are appreciated.
No reservations are required! 
Hope to see you Sunday!
Our current fundraising efforts
Renovation of the Baraga House
The Bishop Baraga Association has begun to renovate the house in which Bishop Baraga died for the purpose of moving all the archives associated with him and all the missionaries that worked with him (which eventually included over 20 Slovenian priests) to make them accessible for more in-depth research on the history of the church in the upper midwest.
The building is also being renovated to return it to its original look when the Bishop lived there and to ensure it will continue to exist for a long time. There is a firmly held belief in the leadership of the Bishop Baraga Association that Bishop Baraga was deeply influenced by his missionary work by his Slovenian heritage.  In every major monument or building in Michigan which has been created in our lifetimes such as the Shrine of the Snowshoe Priest and the Bishop Baraga chapel in the Cathedral of St. Peter in Marquette, there have always been plaques which recognized the contributions of the Slovenians from Northern Illinois. We would like to do the same by donating $5,000 for the renovation of the Baraga House. This Sunday's Baraga Fund Raising Dinner is focused on this effort.
Aside from what is made at the dinner, donations are also being accepted for this cause. The plaque will recognize the specific donation of the Slovenians from Northern Illinois in the renovation of the home. Of course, anyone who wishes to make a donation on their own directly to the BBA for this cause is also welcome to do this. Checks can be written to the Bishop Baraga Association. The memo line should include a reference: Renovation of the Baraga House.
Within a few weeks, a short documentary will be released which was done by EWTN on Baraga's work in the upper Midwest. The BBA has begun a discussion with the Slovenian organization that created the documentary on Bishop Volk, "The Bishop on Fire", to create a documentary on Baraga's Slovenian background and ministry.