Phil Hrvatin KSKJ, Joe Evanish SNPJ & Tim Percic ALMA attending the 2017 American Fraternal Alliance annual meeting in Chandler Arizona.
The American Fraternal Alliance unites nearly 63 not-for-profit fraternal benefit societies operating in 50 states, the District of Columbia and Canada. Alliance member societies represent nearly 8 million individuals, making it one of America's largest member-volunteer networks.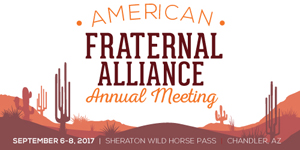 Through advocacy, developing policy and providing opportunities for a broader understanding of fraternal benefit societies as financial providers and community service activists, the Alliance serves as a vital and valued resource.